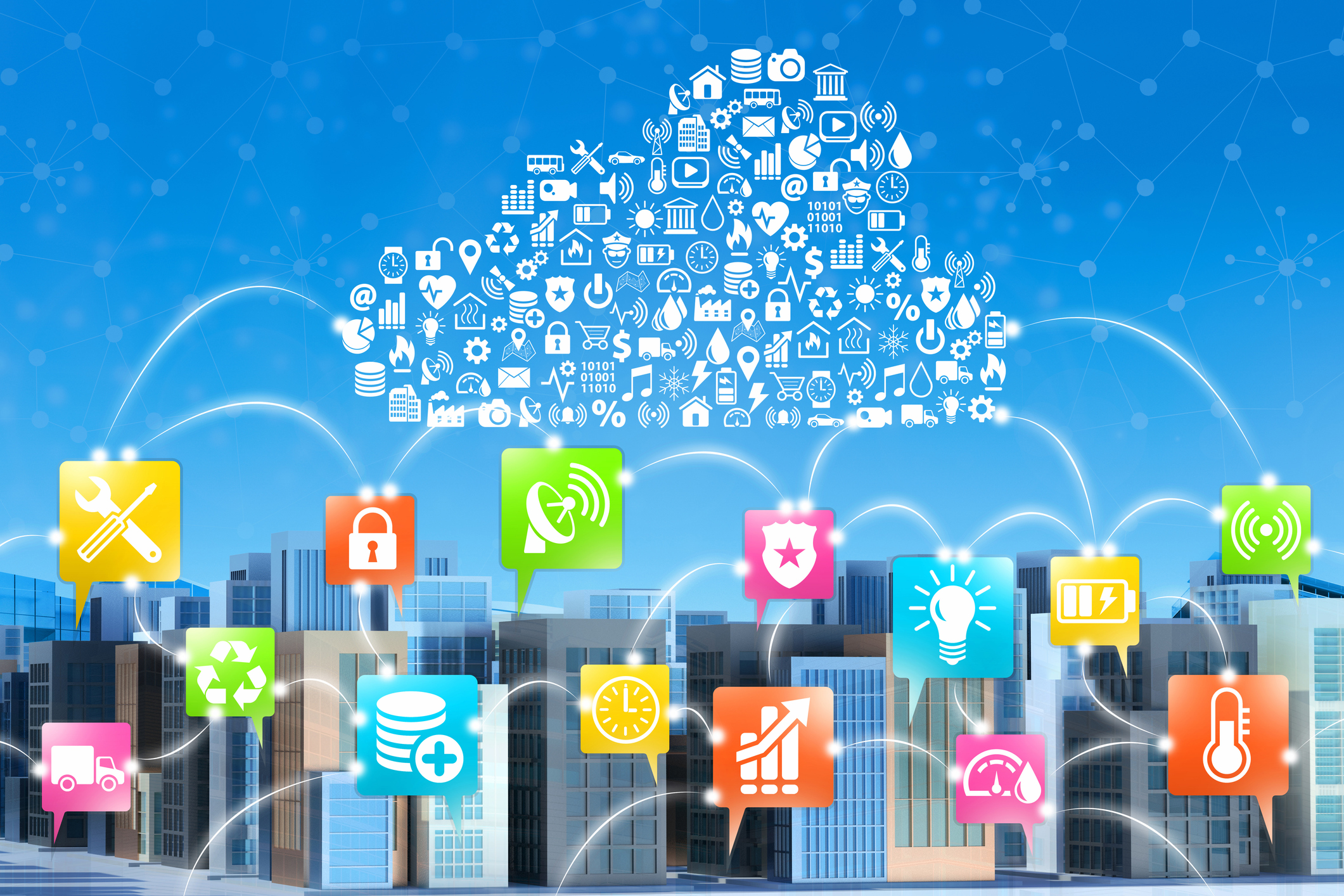 IoT is an industry approaching adolescence and venture investments for IoT are gaining momentum.
Well, that's how Pitchbook describes it when evaluating the distribution of funding deals over the past several years. Seed rounds made up 29% in 2011 and rose to 46% in 2015, while series A rounds have accounted for a larger share year-over-year since 2013. Interest in IoT companies continues to rise, rise, rise.
Welcome to the IoT Funding Party
In Enterprise Companies Ride the IoT Wave with Strategic Acquisitions, we looked at corporate investments in IoT. There are clearly lots of opportunities for industry giants (with deep pockets) to partner with the potential-rich IoT startups who are shaking up the incredibly lucrative space. And the advantages go both ways.
And according to the Pitchbook Platform, VC are "still bullish on the growth potential for IoT."In fact, 488 VCs have participated in at least one of 300 IoT financings completed worldwide, with capital invested coming in under $2 billion since the start of 2015. Indeed, the IoT market is picking up speed.
Just How Massive Is this Market?
Consider all the IoT applications, platforms and enablements, and building blocks—and all the verticals and horizontals therein—that make up the investment ecosystem. The potential for disruption speaks volumes about just how much opportunity is sitting with each of the up-and-coming IoT companies. Take a look at this IoT landscape from venture capital pro Matt Turck to get a feel for the scope: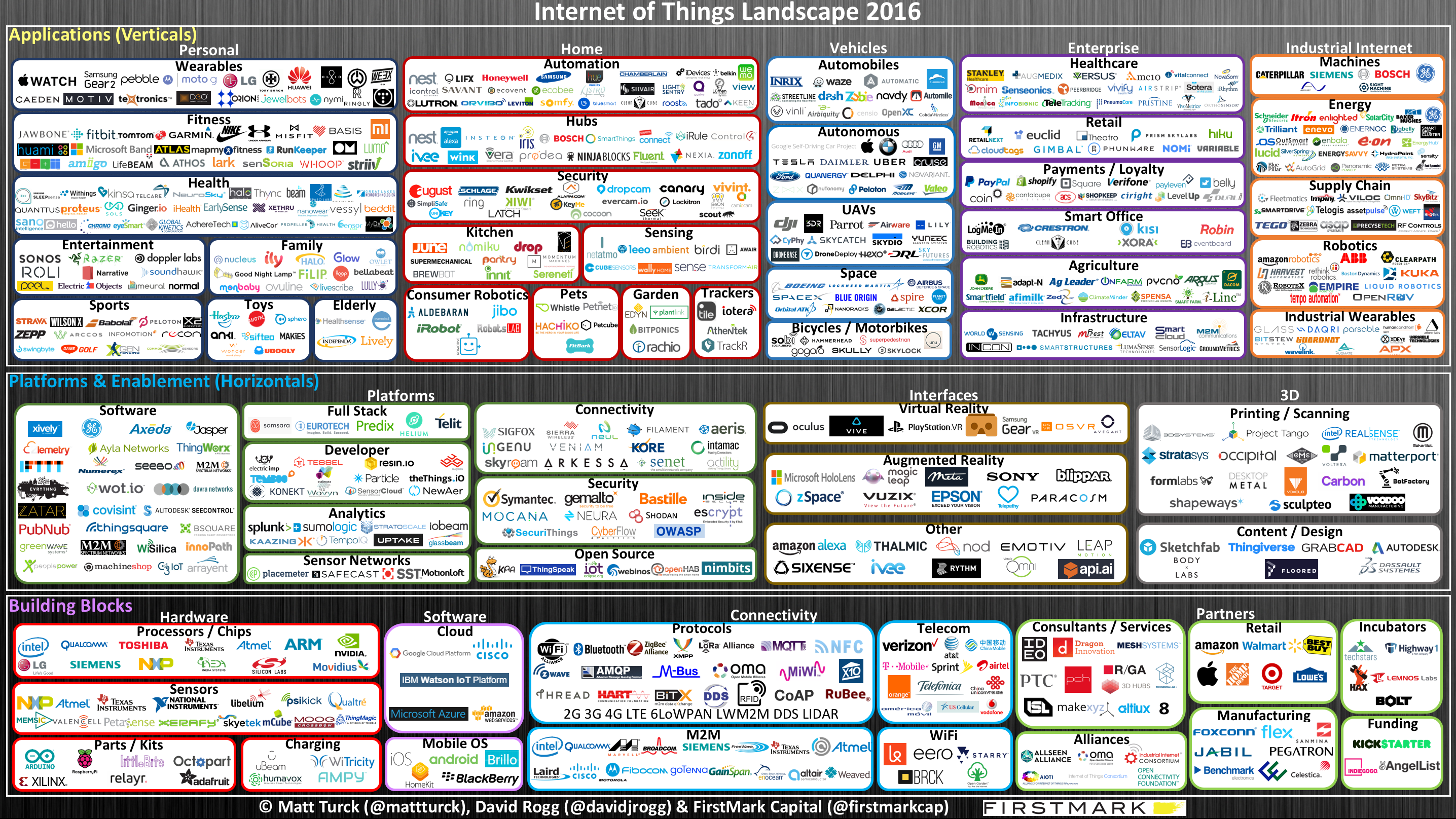 (You'll want to click to enlarge it!)
Here's how Pitchbook ranks The 11 most active VC investors in IoT
New Enterprise Associates
GE Ventures
Cisco Investments
Intel Capital
Lux Capital
Crosslink Capital
SOSV
Kleiner Perkins Caufield & Byers
FundersClub
Bpifrance
Bessemer Venture Partners
IT risk management firm CBI gives another perspective, ranking investors by unique IoT. investments.
Opportunities to Tackle
So where are VCs putting their dollars? When it comes to strategies, there are various possibilities. Here are tips from two experts:
In a recent TechTarget article, IoT Analyst Isaac Brown of emerging technology advisory Lux Research helps potential investors hone their focus. "Those shopping for acquisitions to broaden capabilities and pursue new business," he says, "should be on the prowl for top platform and LPWAN startups…(they) will be desirable investment targets in 2017, with the potential for even more exits in 2017 than we saw in 2016."
And quoted in the Silicon Valley Business Journal, Dave Mount of Kleiner Perkins Caufield & Byers talks about the potential in industrial IoT companies offering solutions for machine-to-machine communications, which includes connecting buildings, connecting power plants, and connecting vehicles. "That is an area," he says, "where we see tremendous opportunity for businesses that make up 50 percent-plus of the Fortune 500. They are in industries like manufacturing, logistics, shipping, power, energy and transportation. They will start to automate and to collect data from their assets, and then become more competitive because they are doing that."
Some Notable Deals for Rising IoT Stars
Ring's primary offering is a battery-operated, WiFi-connected, HD video doorbell. They've raised nearly $100 million in funding from firms including Kleiner Perkins Caufield & Byers, Shea Ventures, True Ventures, American Family Ventures, and Sir Richard Branson.
Electric Imp provides a service platform enabling manufacturers and businesses to connect their devices to the Internet. They have raised about $44 million of funding since 2011 from investors including Redpoint Ventures, Lowercase Capital, and Rampart Capital.
Sigfox operates a cellular network for connected IoT objects and has generated upwards of $309.7 million in funding from 22 investors, including Partech Ventures, Elaia Partners, and Intel Capital.
Maana's platform operationalizes insights for industrial use cases has been funded up to $40 million to date, with Saudi Aramco Energy Ventures leading the latest round.
FogHorn is an edge analytics and applications platform for industrial IoT that integrates with a wide variety of cloud platforms. They've raised $12 million from investors including March Capital Partners, Robert Bosch Venture Capital, and Darling Ventures.
Automile has received total equity funding of over $12.8 million, in 3 Rounds from 8 Investors. Most recently, in December 2016, the company closed a $7.5 million Series A round with SaaStr, Salesforce Ventures, Niklas Zennström, Dawn Capital, and Point Nine Capital. Get all the details on Crunchbase.
About Automile
Automile is revolutionizing fleet management with it's innovative, cloud-based, mobile, and design-first experience.
Try Automile for free- https://automile.com/get-started