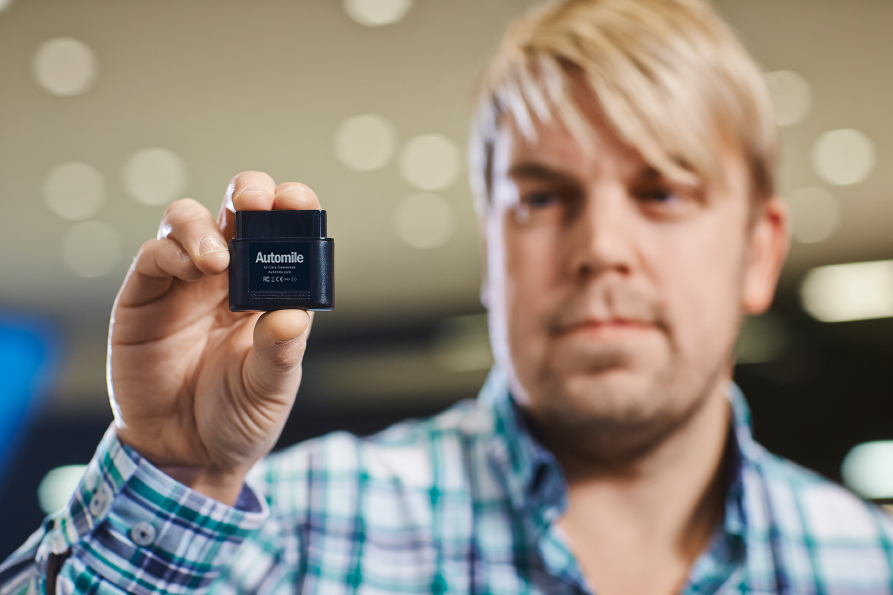 In the age of the Internet of Things (IoT), people and their devices are connected like never before. But while some industries have embraced the idea of connected technology – just think of how many smart home technology solutions are now available – the automotive space has been slow to embrace IoT. Recognizing an opportunity to deliver in an underserved market, serial entrepreneur Jens Nylander established Automile to revolutionize fleet management and bring much-needed innovation and connectivity to the space.
How does a former medical student from Northern Sweden break into Silicon Valley and disrupt an entire industry? As demonstrated throughout his life, Nylander has never been one to back down from a challenge and thrives on pushing himself, embracing failures as learning experiences and demonstrating an eagerness and ingenuity to change people's behaviors.
From Salesman to Student, Engineer to Entrepreneur
Jens Nylander is the son of a government employee father responsible for electricity analytics and a mother who served as bookkeeper and worked in the tourism and textile industries. Interested in technology at a young age, he started working at just 13 years old, selling computers and fax machines door to door. When his company found itself with a number of IT challenges, Nylander rose to the occasion, helping them out and learning programming languages in the process. Although he initially wanted to become a surgeon, and spent a lot of resources trying to become one, his passion for technology won out and he studied engineering for three years at Uppsala University.
During his studies, Nylander worked for a number of companies across Sweden. In one of these early ventures, he built systems for booking hotels and flights – fueling his creativity and putting money in his pocket. Recognizing that it was more fun to work and create something, and because he wasn't learning anything new, Nylander didn't complete his final year of education, jumping right into the real world.
Failures Made Nylander Fearless and Unstoppable
At just 24 years of age, Nylander founded his first company, Jens of Sweden, to change how consumer electronics were sold. He also sought to introduce a new way for how people think about consumer electronics. At the time, there was no way to listen to downloaded music from their computers on the go. Nylander filled this void by creating a digital music player, and Jens of Sweden quickly become the market leader in the digital music space. Despite overnight success and the fame that came with creating such a well-embraced technology, he made a mistake and lost control over the company – and filed for bankruptcy.
This didn't stop Nylander. Drawing on the lessons learned from leading this company, Nylander started a new business creating innovative headphones to further capitalize on the growing digital music industry. The company, JAYS, received investment from the same firm that invested in Spotify. Nylander left JAYS in 2009 and decided it was time for a break, while JAYS went public and was listed on NASDAQ in 2011. During his break, he and his wife Cecilia welcomed three kids, while he pondered about what he wanted to do next.
Adding Fuel to Build a Connected Ecosystem  
Having proven himself adept at launching successful companies that capitalize on new and rapidly changing technology, Nylander thought about where he could be most impactful in starting a new venture. Taking his deep knowledge of the hardware and software industries, the next logical step was to move into IoT, and the growing use of connected homes, connected healthcare and connected cars. As the smart home and connected healthcare spaces were already saturated, while the automotive space remained full of legacy players, Nylander recognized the opportunity to bring IoT into this industry, and the idea for Automile was born.
Hungry to Compete in Silicon Valley
To build the company, Nylander decided to move from Sweden to Silicon Valley. Though some warned of the immense competition he would face, such challenges made him even more driven to succeed. Not only did Silicon Valley offer the competitive environment on which he thrives, but it also enabled him to recruit talented team members from such a robust community.
Nylander developed Automile to solve several challenges faced by fleet managers today: managing the daily activities of a fleet, the hassles of reducing accidents and keeping drivers safe, a lack of visibility into daily activities of drivers and vehicles. Overall, Automile was built to solve these daily problems facing fleet managers and address the questions they have every day in real time.
In just two and a half years, Nylander has grown Automile from a fledgling startup into a leader in the IoT movement. By measuring the information coming from vehicles, Automile delivers a level of connectivity to help companies optimize their fleet activities. Built upon big data, the company collects more than 2 billion data points per month. Automile uses this vast amount of information to create a better experience for its customers, helping them stay compliant and ensuring the safety of their drivers.
Key to the company's growth was Nylander's ability to gain funding – more than $5 million in seed and Series A funding. And as the company continues to grow, Nylander still embraces failures as learning experiences and is eager to share the valuable lessons he has learned from his entrepreneurial journey to date.
Diversity – A High Priority for Creating a High Performing Team
The success of Automile can be attributed to the culture that Nylander has developed as the backbone of the company. Recognizing the value of a diverse team, Nylander is committed to hiring people of all different backgrounds, while trying to recruit as many women as men. And again, the move to Silicon Valley has enabled him to build a team of diverse, highly qualified professionals in the IT space. The result is a highly engaged team that has done amazing things in a short amount of time.
Throughout his experience with successes and failures, Nylander learned that conflict can be an important driver of results. Everyone on the Automile team is encouraged share their ideas, thoughts and criticism, and this insight is used to keep getting better.
Another factor in Automile's success – and one of its biggest competitive differentiators – is the company's 60-day free trial period. This is due to Nylander's commitment that everything he sells be rock solid and something his customers will want forever. The trial program makes sure that customers love the product – the most crucial thing to Nylander. The conversion ratio from the free trial is 85 percent, highlighting the success of the program, which Nylander says was one of the best decisions he's ever made.
Disrupting Fleet Management, One Vehicle at a Time
When Nylander moved to the U.S., he put himself to a specific test: to see if his entrepreneurial spirit could thrive and be successful in the most crowded IT place on earth, while growing his company and eventually place it on the biggest stock exchange in the world. Given Automile's success in such a short time, Nylander is well on his way to achieving this goal.
About Automile
Automile is revolutionizing fleet management with it's innovative, cloud-based, mobile, and design-first experience.
Try Automile for free- https://automile.com/get-started