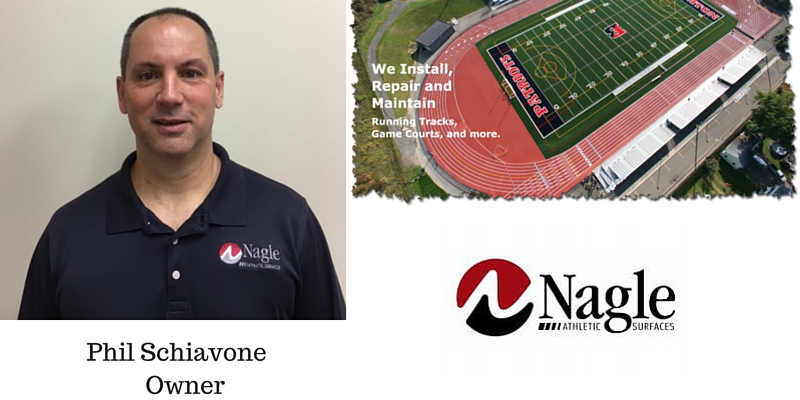 Nagle Athletic Surfaces located in New York was founded in 1992 and is a leading expert in installing sports surfaces for thousands of venues. Their mission is to deliver unparalleled quality product and unsurpassed service on every single project. Phil Schiavone is the Founding Owner of Nagle Athletic Surfaces and oversees the operational aspect of the company.
Number of Employees – 50
Number of Vehicles – 16
What does your typical day look like?
I manage the overall operations for the company and oversee all project managers. My day starts at 6:30 am and could end anytime depending on what the business needs are. Our construction season is from May until Thanksgiving – so it is pretty hectic during that period of time. The sales portion of the business is handled by my partner.
How are you currently marketing your business?
We primarily grow our business by building a strong relationship with our customers. That's our core principle and we live by it. On top of that we send out postcards and personalized letters to all our clients and make every effort to do site visits. We participate in trade shows. My partner is on a board of a sports association and that helps a lot. It is a competitive market so believe it or not we do SWOT analysis. Trying to keep the wheels on and keep it going.
What are your top challenges as a business?
Our business involves a workforce behind wheels and the vehicles are driven to and from the project sites and it is a challenge to understand – Are my employees driving the vehicle safe? Are the vehicles where they are supposed to be at the right time? Are the drivers logging mileage accurately for tax purposes?
What steps have you taken to solve these challenges?
We first introduced a GPS tracking system from a company a few years ago. It was expensive and the installation was not easy at all. It was a device that had to be hardwired into the fuse box.
Then we came across Automile and switched to it.
Why did you switch to Automile?
I plugged in the Automile device into our vehicle's port. Within 5 minutes, I was able to get it to register. All it took was a text message that I received, and I set it all up with my vehicles and before you know it, we were off to the races. The price point was really good and the mobile app was much better than what we had before. We decided to make the switch.
How are you currently using Automile?
We are using it as a safety and security feature to understand where the drivers and vehicles are at all times. We can make sure that the employees have reached the destination without having to call them on their phone. Sometimes I would get a call from the school district (client) asking when the crew would be arriving and I am able to say that they will be there within a certain time period depending on where the employee currently is.
On job sites, we sometimes have bad weather condition and because of that, we are unable to continue to work. Now we can actually show our clients that our truck was on site until it got rained out, which is why we had to leave.
I often look at the live report that is provided, and it is great to see where everyone is.
Also, we have to track mileage for tax purposes. In the past, the employees would manually log the miles which were very time-consuming. Now, they all have their own Automile account, so they simply use the mobile app to categorize their trips as personal or business. On my end, I am able to get the mileage report for the whole year. Best of all, we have data if we are ever audited by the IRS.
What value do you realize with Automile?
By eliminating manual mileage tracking, we have saved a ton of time and increased productivity. I get peace of mind knowing that my drivers and vehicles are safe.
Any learnings you want to share with the small business community?
We are living in this ever changing world and technology is playing a huge role in it. For example, the phone is not your phone anymore, but instead, acts like your personal computer. You can look up anything in the world in an instant. The world wants things to happen two days ago instead of today. That is how fast everything is moving. I encourage businesses to embrace the power of technology and be able to serve employees, customers, and partners like never before, driving business results.
About Automile
Automile is revolutionizing fleet management with it's innovative, cloud-based, mobile, and design-first experience.
Try Automile for free- https://automile.com/get-started