We at Automile have been hard at work developing some exciting new improvements to our Automile Pro web application, and we're thrilled to introduce you to all the new and enhanced features! We gathered feedback from our users to figure out how we can better address their needs. The result? Automile Pro has a beautiful new, faster-than-ever interface that helps our customers make the most of our service.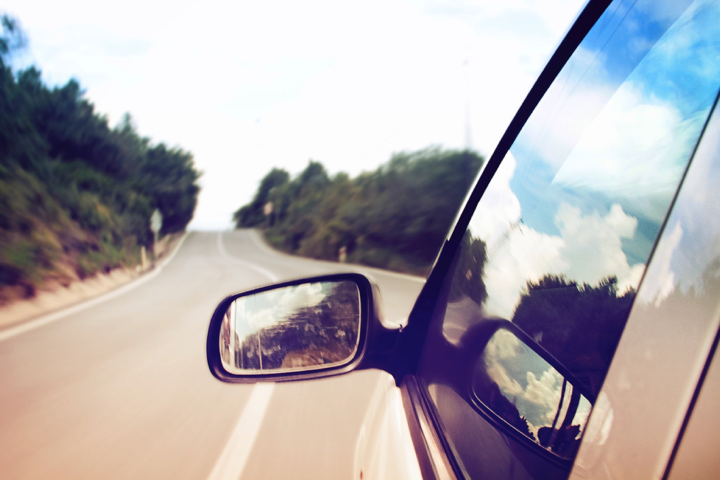 Better Manage Your Fleet with Inbox
We've introduced a new feature to Automile Pro called Inbox. The Inbox provides a quick overview of recent fleet events that need your attention, and provides a quick, easy way to add notes and properly categorize recent trips.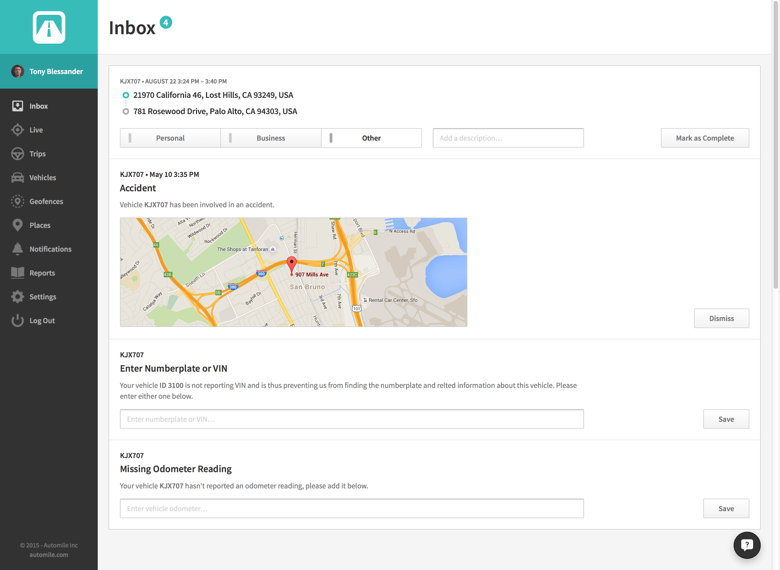 Manage Fleet Events with Notifications
We've rebuilt our notification system from the ground up. We've added new notification types and made it even easier to customize how you are notified for different key events. In addition to notifications via e-mail, SMS, and HTTPpost (to other systems), you can also customize notifications to be sent to your Inbox.
Streamlined Geofences
Always know that your fleet vehicles are where they are supposed to be. We've simplified the Geofences feature so that it's quick and intuitive to create and edit geofences for your fleet. You can create as many geofences as you like and access them from the notifications menu to set parameters and alerts. Simply drag points on a map to define the area you within which you want your vehicle contained, assign your vehicle(s), and save. You can edit your geofences at any time to add or remove vehicles, adjust the geofence area on the map, and change your notification settings.
Real-Time Tracking is now Live
Live is your fleet at a glance. See your entire fleet in near real-time with Live! When you click Live, a map view will open in a new tab. Filter with checkboxes to view current Geofences, Places or to view only moving vehicles. A sidebar lists each vehicle in your fleet, which you can click to zoom in on its precise location at any time.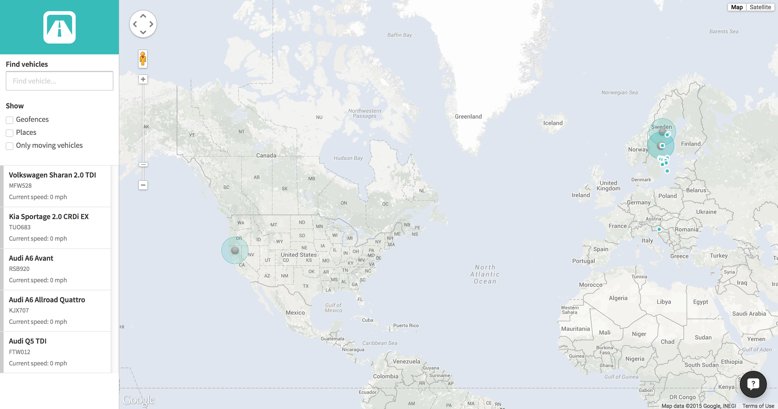 Robust Reporting
We've dramatically improved the reporting feature in our updated version of the Automile Pro web application. In addition to our tax-compliant Mileage Log report, you can also select between our Environmental and Gas Stations reports to gain detailed insights into each vehicle. Reports are generated as a web version now with the option to export as an Excel file or a PDF to make report sharing even simpler.
With thousands of businesses now using Automile Pro, it's important to us that we deliver the best possible user experience. We appreciate any and all feedback on this new release and are happy to hear your thoughts! Contact us on Facebook, Twitter, LinkedIn or send us an e-mail.