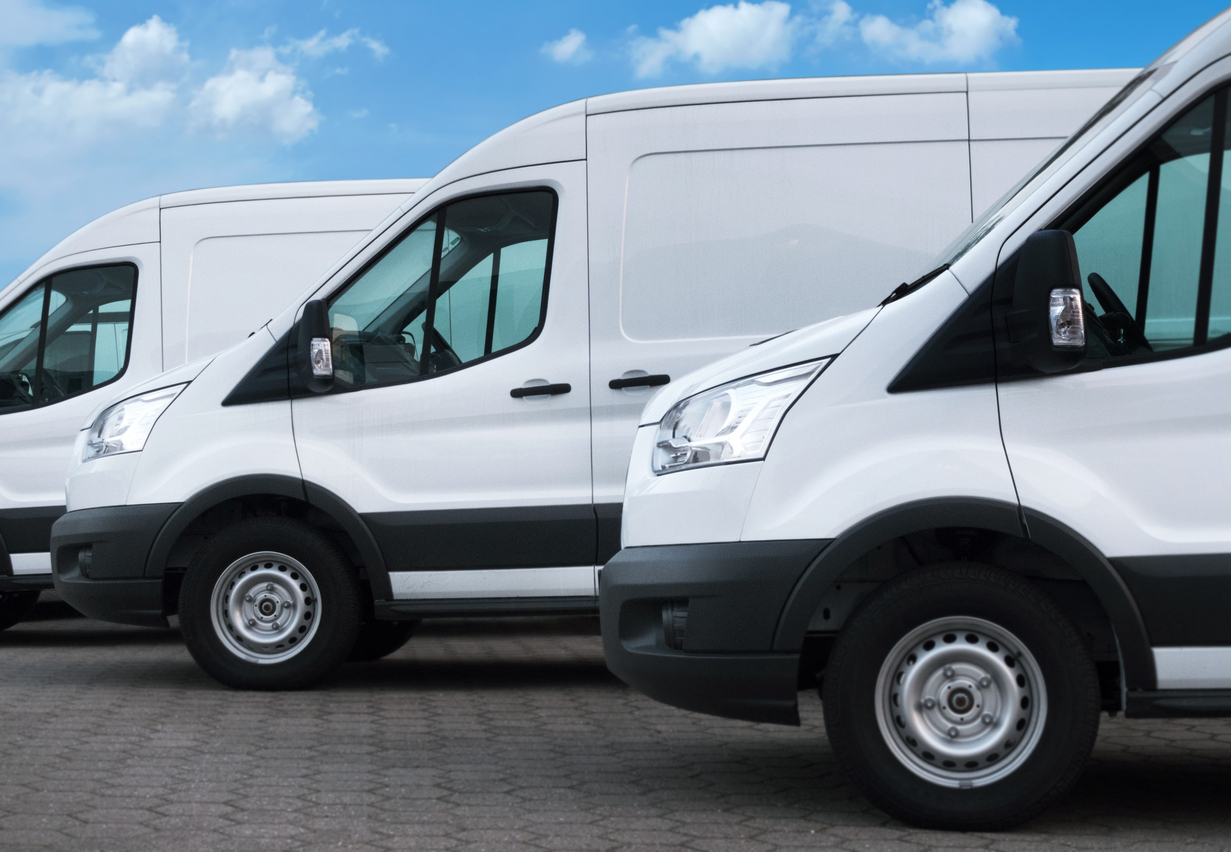 In one corner, we have the company fleet of vehicles, owned or leased for employee on-the-job (and sometimes, personal) use. In the other corner, there's the employee's vehicle, for which an employee receives a business expense reimbursement. Which is the way to go?
Welcome to the Ring
If you're a field services company, you've got to get your mobile workforce on the road, one way or another. But is it better to provide company vehicles to employees or manage an employee reimbursement program? While there's no one right answer—it all depends on your company's specific needs—we think you owe it to yourself to pick a solution that provides the most benefit to both your business and your employees.
When it comes to recruiting the most in-demand drivers and keeping them happy and safe, and managing your company image, budget, and fleet health….
The WINNER is: The Company Fleet 
Here are the 5 key reasons why we believe providing company vehicles to employees is the win-win solution for most field services operations:
1. Boosts Recruiting, Retention, and Morale
You want to hire the best drivers, right? Maintaining a fleet of company vehicles can be an important recruiting differentiator in today's competitive job market. From the employee's perspective, a dedicated fleet signals professionalism, financial stability, and a commitment to providing employees with the tools for success.
Because they're not adding wear and tear to their own car, van, or truck to conduct company business, employees don't have to pay out-of-pocket for unexpected repairs or maintenance costs. And what's more, employees may appreciate the option to purchase their assigned vehicle when it's time for the company to upgrade their fleet.
Check out 5 Must-Haves to Attract and Retain Your Workforce-on-Wheels for more insights.
2. Sharpens the Company Image
Have you considered a vehicle's role in shaping the perception of your company's brand in the marketplace? If an employee drives his or her own vehicle—and it looks run-down or shoddy—customers and prospective customers who spot it in traffic, at job locations, or when sitting in the business parking lot may get put off.
On the other hand, with your own fleet of vehicles, you can ensure you're presenting a uniform, professional image, from the type of vehicles your workers drive to the images and messages advertised on the body panels.
Speaking of messages on vehicles, Still Sticking to "How am I driving" Bumper Sticker? Time to Evolve.
3. Streamlines Administration
Managing an employee reimbursement program can be a hassle and a strain on resources. Rather than juggling multiple employee expense reports, maintaining multiple motor vehicle reports, tracking multiple insurance requirements, staying on top of multiple annual DMV checks—all for different vehicles owned by different employees—it's usually more convenient for business owners and fleet managers to make one auto loan or lease payment, manage one insurance policy, coordinate maintenance schedules from a centralized hub, etc.
Explore the Top Challenges for Small Businesses with a Workforce Behind Wheels and uncover 3 Tips to Strengthen Your Fleet Management Strategy.
4. Helps Manage Costs
If you're thinking the reimbursement method means "lower costs," think again. Consider the direct and indirect costs associated with reimbursement program administration, maintaining zero control over brand image, and having inconsistent levels of reliability and fuel efficiency across employees' vehicles. Now, consider the opportunity costs of not having a company fleet.
For example, companies with their own fleets may be eligible for discounted prices for initial vehicle costs, repairs, parts, and services; and they can save at tax time by deducting depreciation expenses, general auto expenses, and interest on company car loans. Plus, insurance rates may be less when applied to a business owned or leased fleet.
For more insights into managing fleet-related costs, don't miss:
1, 2, 3, Cha-ching! Maximizing Your Business's Mileage Tax Deductions in 3 Steps
Is Your Fleet of Vehicles Idling? Don't Leave Money on the Table
Cutting Insurance Costs With Fleet Telematics
5. Ensures Vehicle Health & Employee Safety
When you manage your own fleet of vehicles, you're in charge of maximizing their efficiency and have full command over their whereabouts, 24/7. You can be sure that each driver operates just the right type and size of vehicle needed to get the job done, every time. And importantly, you can be sure each company vehicle is equipped with the appropriate safety features, which help fine-tune your driver safety policies and related enforcement.
With a fleet telematics tool like Automile, you have 100% visibility over vehicle health and can better manage upkeep. You can monitor driver behavior and vehicle events to aid in your safety programs, and set solution controls to keep you in-the-know about potential thefts, accidents, and more.
Learn more How to Avoid Unauthorized Use and Theft of Business Vehicles & Assets and ask yourself, Should Fleet Safety Be One of Your Top Business Priorities?
About Automile
Automile is revolutionizing fleet management with it's innovative, cloud-based, mobile, and design-first experience.
Try Automile for free- https://automile.com/get-started